Dear David,
take your time, make sure you are healthy!
If there is anything we can do for you, let us know
In the meantime, Larissa is looking great!
Although I must say she looks a bit different than before. Comparing to her previous self, e.g. here: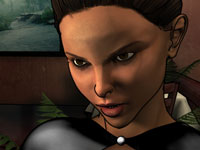 she looks... different. Obviously there were several changes in how you draw your comic over the years. But still, her face is a bit different, although I can't put my finger exactly where.
Maybe it's just her hair style? Maybe her eyes got a bit bigger? Her current face feels more casual, and previously she looked more serious. Maybe her face was just a bit longer and thinner, especially below her cheeks? Maybe her skin was a bit darker and her eyes brighter? Maybe a combination of those or something else? This is hard...